What is philanthropy
This is the charitable giving of larger donations with the goal to improve the lives of others. It is through ongoing support that allows Rural Aid to bring hope and solutions to farmers in need. Rural Aid works hard to develop relationships with supporters and offers philanthropic givers the opportunity to not only make a significant contribution, but also the option to meet and participate with the Farmers whose lives they are improving.
Australian farming families face the relentless hardships of bush life, from natural disasters and financial distress to mental health struggles
and isolation.
Since 2015, Rural Aid has been tackling the issues head on, deploying on-the-ground support when and where it's needed most.
The climate is harsh.
There are pressures to produce year in, year out.
Stress and isolation knock mental wellbeing.
Be the one who stands with our farmers when they
need us most.
Rural Aid Stands With Our Farmers When They Need It Most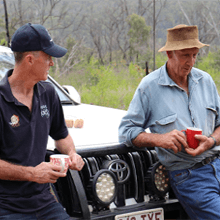 Rural Aid Community Representatives are known, trusted and embedded in our regional towns, working in and alongside their community.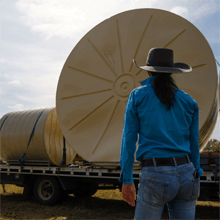 They are locals who understand the culture of their region.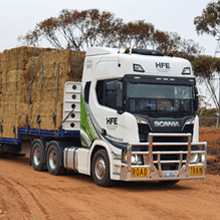 They are the 'glue' that connects our farmers to the help they need.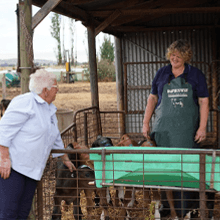 We don't leave when the dust settles, the smoke clears, and the waters recede. That's when some of our most important work begins.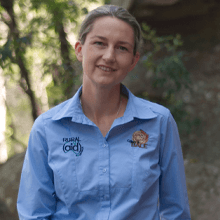 Rural Aid Counsellors are qualified, experienced professionals providing a unique carry-through service.
Before
,

During

&

After

Rural Aid can't stop the floods, fires, and droughts, but we can be there for our farmers when they need it most.

Supporting our mates in the bush is about more than disaster response. Our work starts with preparing communities for the challenges they may face, and building more resilient and sustainable infrastracture when the dust has settled.

Straddling all stages of the disaster life cycle is Rural Aid's largest team – our counsellors – who provide continual support and connection through the good times and bad.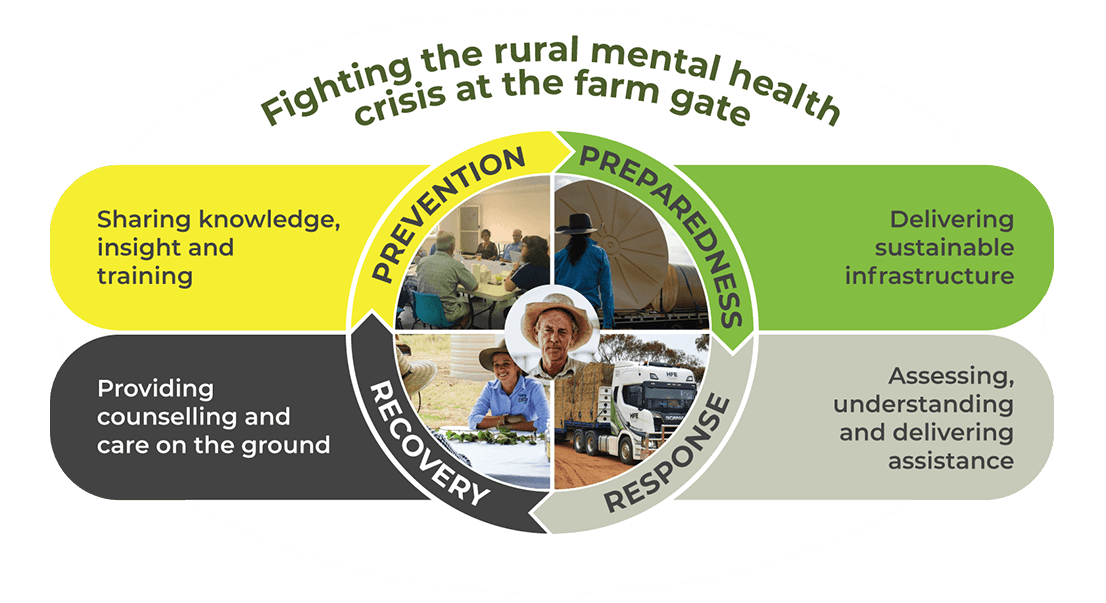 Make a Meaningful Difference
Your contribution means Rural Aid can continue to:

Expand our Counselling Program to place
dedicated mental health and wellbeing support in rural communities nationally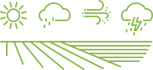 Build our Disaster Response emergency fund, enabling us to
commit more financial and tangible support (e.g. hay, water) to communities in the wake of natural disasters

Implement Community Programs through the 'Our Towns' initiative to
strategically plan for a more sustainable and vibrant future
through improved infrastructure, technology, and volunteer support.

Bolster our Volunteer Program and Farm Army so we can
connect farming families with support
when they need it most
Contact Us Today
Please contact us to discuss how you can make a
meaningful impact to the lives of our farming families.