About Rural Aid
Rural Aid is Australia's most trusted rural charity. We stand with our farmers when they need us most. Rural Aid provides critical support to farmers affected by natural disaster through financial, wellbeing and fodder assistance. Rural Aid's community programs help create more sustainable communities by building stronger futures for all Australian farmers.
Rural Aid offers free, confidential counselling to Rural Aid registered farmers and their family. Rural Aid counsellors catch up with their farmers where they're most comfortable; whether it's on farm, in town, or over the phone. Rural Aid counsellors are professionally trained to support their clients through all kinds of life challenges and come with an understanding of the unique needs of rural people. They can support with practical strategies to help farmers refocus and get back on track.
BE PART OF SOMETHING GREAT
HOW CAN YOU HELP FARMERS IN NEED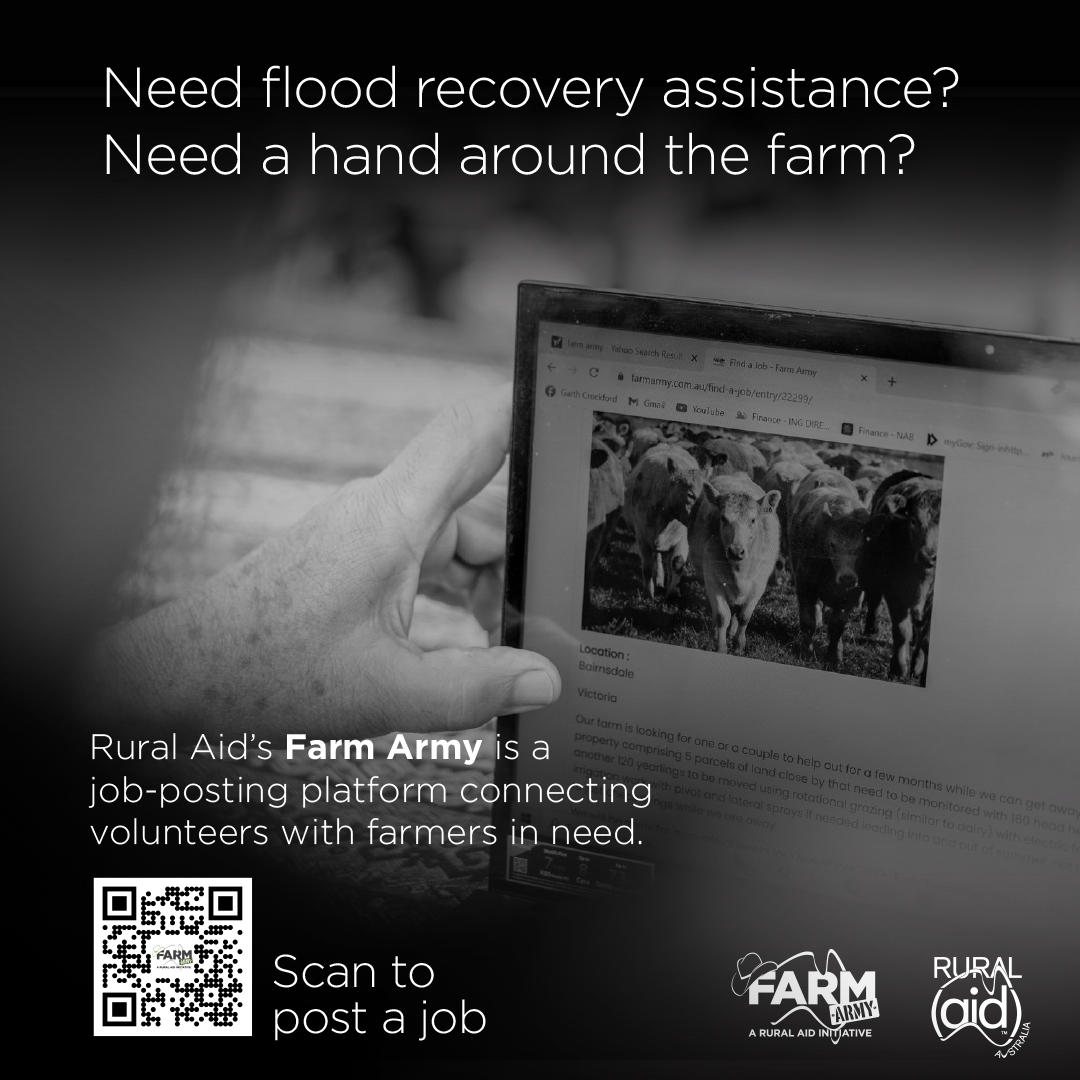 The Farm Army is a job posting platform for farmers and workers or volunteers. Farmers can post a variety of jobs on a volunteer or paid basis. They can also offer positions on a contra basis, where applicants work in exchange for meals and/or accommodation. Rural Aid provides the platform where farmers list jobs, but is not involved in the applicant selection process.
FUNDRAISING INITIATIVES
FUNDRAISING AND VOLUNTEER
Here at Rural Aid we have heaps of exciting opportunities to get your hands dirty and make a real difference to the lives of rural Australians
Rural Aid recognises that the ongoing COVID-19 pandemic has far-reaching effects for every community and organisation in Australia.
Despite facing new challenges, our team is continuing to deliver much-needed counselling services, hay and water to farming families.
Whether your scheduled event has been cancelled, or you're looking for an uplifting way to get involved and create a
positive impact with the help of your schoolmates, co-workers, or friends,
there are multiple fun ways to help rural Australians in need.