Rural Aid's Mental Health and Wellbeing Team
Rural Aid is dedicated to improving the mental health outcomes of rural Australia. The Rural Aid Mental Health and Wellbeing team is made up of experienced counsellors who are based in rural towns across the country.
Rural Aid counsellors offer free, confidential support to farmers and their families. Counselling Intake Line – 1300 175 594
Rural Aid's counsellors are trained to help their communities with a range of services, from early intervention and health promotion, right through to treatment using evidence-based interventions. Rural Aid's Mental Health and Wellbeing Team prefer to visit farmers on their properties, meaning our counsellors are often (happily) called on to fix fences or drench sheep while they're having a chat.
In September 2021, Rural Aid made its biggest investment into regional mental health expanding the counselling service from the original five team members. Rural Aid now has counsellors throughout Australia to help address the gaps in regional healthcare. To find your closest counsellor, please see the team profiles below:
Meet Rural Aid's counsellors:
Myfanwy Pitcher
Manager – Mental Health and
Wellbeing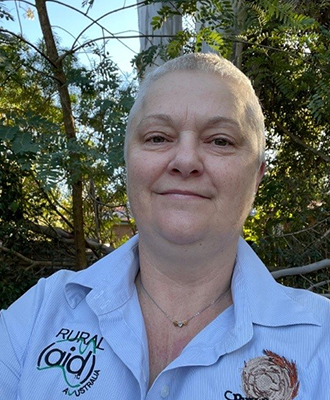 Myfanwy Pitcher is the Manager of Rural Aid's Mental Health and Wellbeing team. Her strong
connection and admiration for farmers started early, while growing up in a small South
Australian town, spending time in the shearing sheds with her grandfather.
Myf loves the challenge of leading and developing the Mental Health and Wellbeing team, a task
made easier thanks to how driven the team is to improve outcomes for those in the bush.
Myf is grateful to play a role in others' lives, and loves highlighting her clients' unique
strengths.
"The people I meet are the experts in their own lives, and I'm privileged to be part of their
journey."
"As Disraeli stated, the greatest good you can do for another is not just to share your riches,
but to reveal to him his own."
New South Wales
Liz Bellette-Stubbs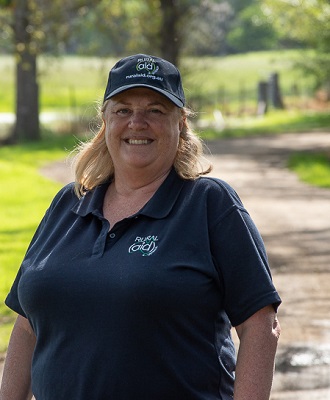 Liz Bellette-Stubbs is based in the beautiful Bega Valley in New South Wales.
Surviving the Black Summer bushfires strengthened Liz's resolve to address gaps in regional
healthcare. After evacuating her home, and then going on to serve her community with her local
Rotary Club, Liz knew "people were going to be in need after the fires". She wasted no time seeking
and securing a counselling role.
Liz is passionate about supporting the family unit in a counselling setting.
"I encourage men to utilise an avenue of support to give voice to their fears, stressors and
concerns. And I make sure that women are supported and that their issues are validated by a caring
counsellor," Liz says.
She draws on her teaching background to make sure the youngest members of the family are heard too.
"I utilise my skills to reach children who take on adult roles on the farm, where they can witness
stress and distress. I listen, so they can voice their concerns, and teach them coping strategies
which will make their liglves easier."
Liz has a deep connection to the bush and to the sea. Her nephews come from a long line of fisherman
and she's seen the "industry thrive and now struggle to survive".
Yeony Kim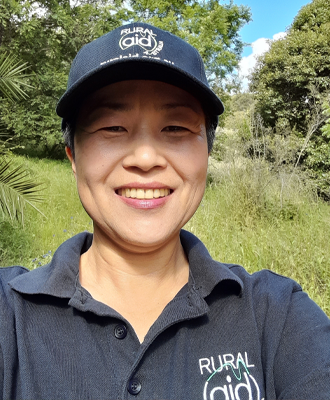 Yeony Kim put her roots down in Tamworth three years ago and hasn't looked back. Yeony has a special
affinity for trees after growing up in chestnut orchards and nurseries. These days, she travels
across the expansive New England North West to visit farmers on their properties.
Yeony is fascinated by the overlaps in western psychology and the eastern appreciation for the
mind/body connection. A background in pharmacy helps Yeony approach human health with a holistic
lens.
"Once we can see our strengths, which we often deny or have a hard time accepting, we can put
ourselves together in our own way. It is my honour to be there witnessing it," Yeony says.
Yeony is most comfortable outdoors and knows many farmers are too.
"I enjoy helping farmers with the concept that they don't need to go off-farm to get help, it can be
done in their environment."
Rani Morgan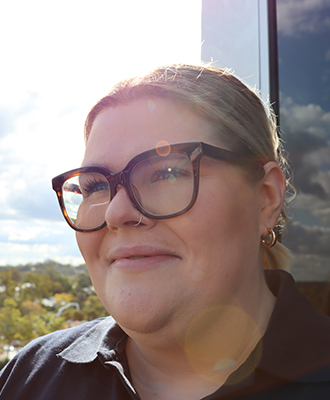 Rani Morgan now calls the central west of New South Wales home. Rani grew up on a mixed farming operation with cattle, sheep and cropping in the Riverina, just outside of Hillston. She then made the move to Broken Hill in far west NSW. Rani worked in agribusiness in the 2017-2019 drought and witnessed how natural disasters and extreme, adverse weather events impacted the wellbeing of entire farming communities.
She then moved into the mental health space and decided almost immediately that it was her calling.
"Working with Rural Aid allows me to work within two industries I love; mental health and agriculture," Rani said.
Rani is passionate about taking a holistic approach to wellbeing and mental health by ensuring our farmers are supported during any natural disasters. She has firsthand experience understanding the challenges faced by rural and isolated people accessing mental health support.
"I understand that having practical and tangible solutions can reduce our stress and allow for longer term wellbeing."
Glenda Carter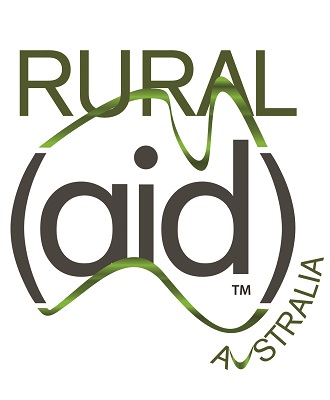 Glenda Carter calls New South Wales' Riverina district home. Glenda is proud to work for Rural
Aid, and enjoys visiting her farmers on their properties.
"I use a range of strategies in supporting the person to be involved in making decisions about their
own life by listening to their words, understanding their thoughts and emotions in a non-judgmental
and caring environment," Glenda says.
Glenda works hard to build relationships with a network of support agencies like the National
Recovery and Resilience Agency, Suicide Prevention Australia and Australian Red Cross.
Glenda is passionate about addressing the increased levels of distress in rural communities, due in
part to challenges faced by young people and their families.
"With the significant shift in social and economic landscape of Rural Australia our young people are
facing economic hardship, employment issues, relationship breakdown and loneliness."
Victoria
Sue Jensen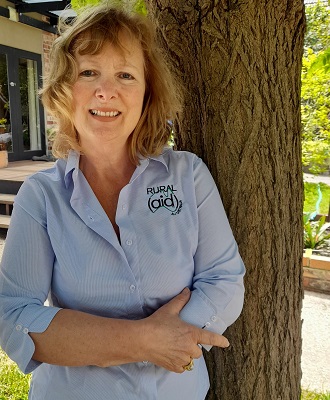 Sue Jensen is based in Geelong and visits farms from the Macedon Ranges in the north, way out
west to the South Australia border.
Sue's previous work as a teacher inspired her to enter the wellbeing domain.
"I am passionate about addressing health gaps in rural and regional Victoria such as isolation,
restricted access to health care, lower educational attainment and poor infrastructure," Sue says.
Sue enjoys helping family units tighten their bonds, allowing them to tackle challenges together.
"If there is drought on the farm, it is affecting the whole family."
Sue has a deep affinity for the bush. She can often be spotted with homemade biccies and a thermos of
tea on her farm visits.
"Rural Aid combines a passion for the love of my country and the people who are so connected to it,
to the work I do as a skilled and experienced counsellor."
Darren Devlin

Team Leader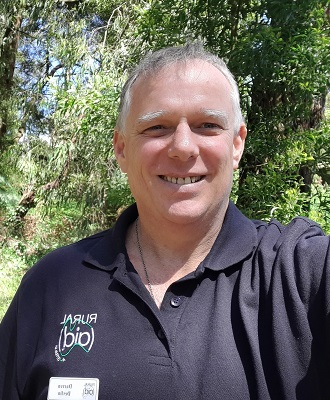 Darren Devlin has a strong connection to the Gippsland bush, through his work as a Rural Aid
counsellor and through his volunteer efforts; Darren devoted 16 years to the Victorian Country Fire
Authority.
Darren enjoys helping others live a quality life.
"I believe that we are all trying to be the best we can and live the best lives we can with the tools
we have. However, most of us have either been given the wrong tools or the tools we have been given
are broken or in need of repair," Darren says
Darren believes a preventative approach to health is an important factor in Rural Aid's work.
"Rural Aid not only provides for the physical and emotional needs of primary producers and their
families following disaster, but Rural Aid is also taking a proactive approach to developing
individual and community resilience."
Rod Galvin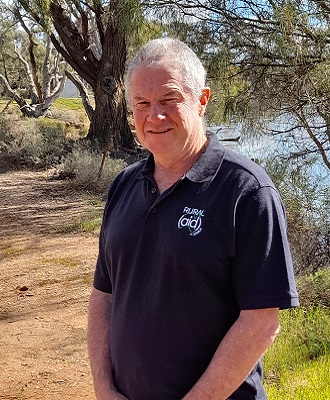 Rod Galvin calls the beautiful north west corner of Victoria home. He currently lives in
Mildura, but grew up an hour west of Orange, NSW.
Rod's friends and family had been urging him to become a counsellor for years, but ultimately it was
a Landline episode on male suicide rates that prompted Rod to become a counsellor.
"For me, the episode and statistics really hurt. It was clear that men are doing it so tough that
they don't know where to turn," Rod says.
Rod believes his own experience overcoming challenges helps him relate to others. Rod freely shares
his lived experiences of overcoming severe depression in his teens; divorce and remarriage; and the
death of his parents.
Rod considers himself quite the handyman and loves helping out with jobs on the farm when having a
chat.
Marg McKay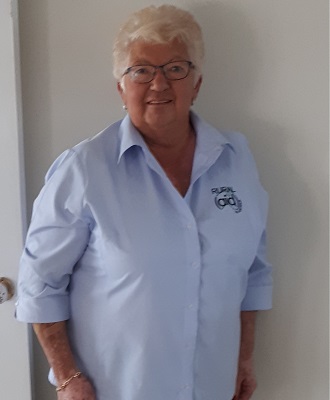 Marg McKay is a valued member of the Wodonga community. She visits farmers from Towong to
Murrindindi to Bendigo. Growing up surrounded by sheep, Marg was later inspired to own a small
property of her own and has dabbled in shearing and wool classing. These days, Marg leaves farming
duties to her cattle-loving son.
Marg prides herself on being a wonderful listener. She's great at helping people accept what they
cannot change, and guiding them to a brighter future.
Her experience helping farmers and their families in times of crisis has led her to be a passionate
advocate for better health services in the bush.
"Rural communities suffer from the lack of services to address many types of health issues,
especially mental health. Waiting lists, if you can get onto one, are massive and the need is so
great," Marg says.
South Australia
Jeffrey Grace-Jones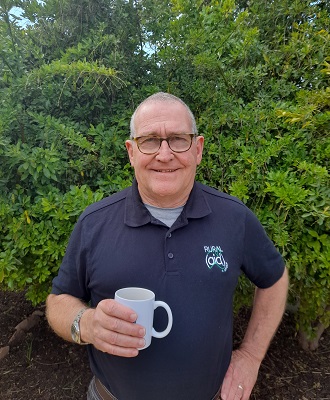 Jeffrey Grace-Jones has worked as a counsellor all over regional Australia, but his heart and home
lie in South Australia.
Jeffrey is based in Port Augusta and has a strong affinity to the land. He grew up on farms in
New Zealand and more recently, has experience running wineries.
Jeffrey is proud to play a role in helping farmers overcome their challenges.
"There is a need for counsellors in rural areas to reduce the stigma and myths around mental health
and to enable those doing it tough to access assistance," Jeffrey says.
Jeffrey has faced bushfires and helped fight the demons that can follow them too. He was caught up in
the Black Saturday fires in Victoria, evacuating twice to safety. Jeffrey has also helped Kangaroo
Island farmers with their bushfire recovery.
Jeffrey believes it's helpful to treat mental wellbeing the same as any other medical condition.
"If you've got a tv remote with a flat battery, no matter how much you push all the buttons, nothing
is going to happen. You need to recharge the batteries."
Sukriti Chaudhary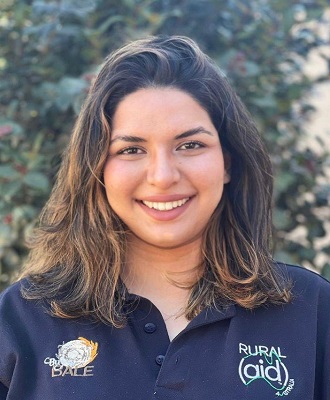 Sukriti Chaudhary is based in Berri and visits farmers in the Murray, Mallee and Riverland.
Sukriti loves helping others bring out their best version of themselves. She values the genuine
relationships built with farmers and their families, and enjoys watching those connections grow.
"Unlike many rural organizations that focuses one key service, Rural Aid provides a number of
services with little hassle," Sukriti says.
"The opportunity to work with community and famers on their farms, rather than providing them
assistance from behind a screen is a great experience. The dedication, thoughtfulness and alignment
of values, is what attracted me to work at Rural Aid."
Sukriti takes a holistic approach to counselling and encourages her farmers to take the lead in
their own growth and ability development.
Dorothy Crosby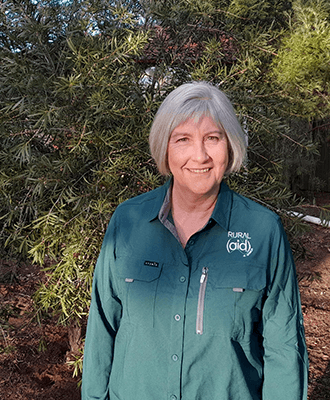 Dorothy Crosby lives in the foothills of the Flinders Rangers, in the picturesque agricultural town
of Quorn.
After starting her working life as a nurse, she now has more than 12 years' experience improving the
mental health of her counselling clients. Dorothy cares deeply for others and is experienced in
helping people through relationship challenges, improving their self-worth and communication skills.
Dorothy is a compassionate person with experience supporting families on their grief and loss
journey.
She greatly admires farmers' ingenuity in the face of serious challenges. She knows how hard it is to
find healthcare in the regions, and loves how Rural Aid makes seeking help a little easier.
"Farmers are often so busy managing their properties that they don't make seeking help for their
mental health a priority," Dorothy says.
"By being available and flexible to meet the farmers at the farm gate, it is helping to diminish some
of those barriers."
Western Australia
Roger Hitchcock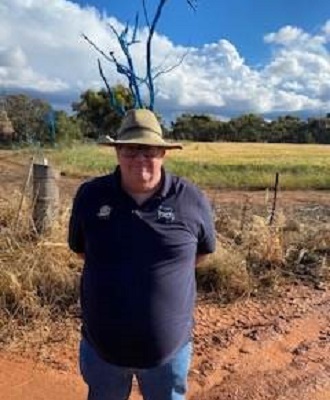 Roger Hitchcock is a down-to-earth counsellor with deep roots in West Australia's farming history.
Roger is based in Wagin and calls Narrogin home. Roger knows the wheatbelt like the back of his
hand. He's also spent time working in remote parts of the NT.
"Living in regional West Australia, I know the on-ground services are sparse. I hope I am the person
that when locals need help with their current situation, I can assist them face to face, which we
country people prefer," Roger says.
"As a trained counsellor I will ensure that I will adapt to what the individual needs and I will
listen and walk along aside you. I will never judge anyone."
Roger has experience dealing with the aftermath of natural disasters, and recently spent six weeks
visiting farmers impacted by Cyclone Seroja.
Gome Simfukwe

Team Leader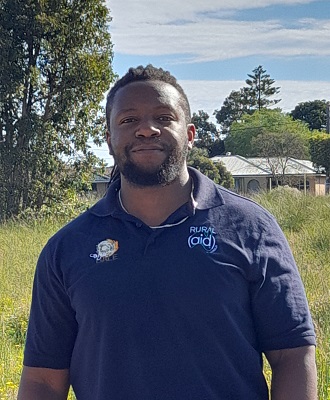 Gome Simfukwe looks after the Northam and Merredin regions of West Australia. He first became
a counsellor after undergoing his own wellbeing journey.
"I discovered the transformative power of feeling truly seen and accepted, warts and all, in a
counselling setting," Gome says.
Gome has previously worked in the alcohol and other drugs field, and has experience helping others
through trauma.
He believes farmers' challenges are often compounded by their environment.
"Not just because of the vulnerability to the elements but also because of their isolation and lack
of access to appropriate support. Having an organization like Rural Aid come in and say we're here
to walk alongside you through any issues you may be facing, makes such a difference."
Queensland
Jemma Michael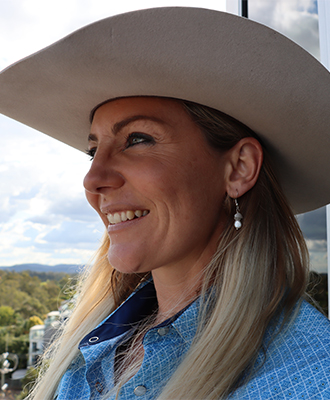 Jemma looks after Rural Aid farmers on the Darling Downs, having completed a Masters in Counselling and Honours Degree in Education. Originally hailing from Victoria, Jemma has worked in the High Country as a Jillaroo and now spends her time in the saddle as a trainer of Arabian endurance horses and her showjumper Finn.
Jemma is most at home travelling the vast Australian landscape, meeting with people of the land, and lending a hand to farming families to help them get back on their feet.
She has many tools in her counselling repertoire that can be used in a farmgate setting. Jemma is well versed in traditional approaches like CBT and ACT, and is also an advocate for expressive therapies like journaling, art therapy and song writing.
"When disaster strikes, and there is a succession of environmental and personal impacts, people's livelihoods are affected in diverse ways," Jemma said.
"There is opportunity for positive outcomes after devastation and there are ways to come back with resilience, fortitude and redefined strategies that can assist with mental health."
Jemma has the bush in her blood and loves sharing stories about her horses and high-jumping farm dogs that visit her 'office' to 'help'. Jemma hopes to incorporate equines into more of her counselling work in the future.
Cheryl Calder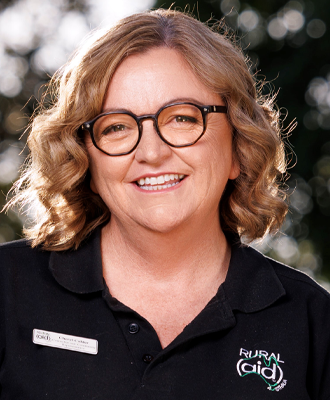 Cheryl Calder lives in Toowoomba but travels all over the Darling Downs to visit farmers on
their properties.
"Farmers often do not have the accessibility or flexibility to engage in support for their mental
health, as those of us who can, sometimes take for granted," Cheryl says.
Cheryl describes her job as a privilege and enjoys developing genuine connections with farmers.
She has a special interest in applying creative therapies, from a trauma informed approach, to
support strengths and improve resilience.
"As a qualified, experienced, registered counsellor, the process of helping people work through their
challenges and find meaning in life is something I am passionate about and deeply value."
Nicole Galvin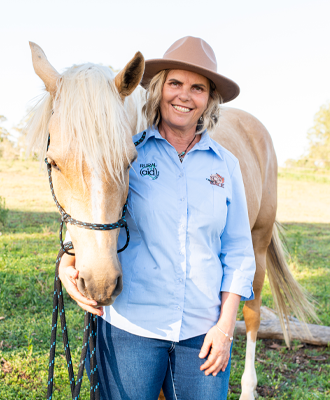 Nicole Galvin calls the Central Queensland town of Calliope home. She's done her share of moving
across this wide brown land, but she's always had country air in her lungs, and a horse in a paddock
nearby. Horses are a huge part of Nicole's life. She loves working with horses and nature in her
counselling sessions when possible.
"As a person who is passionate about mental health, wellbeing, farmers, and the land, I feel there
are so many nuances in the farming environment that offer opportunities for therapy outside the
clinical setting," Nicole said.
"There is still work to do to help people in metropolitan Australia develop an appreciation of what
our farmers do to take care of the land and provide food and fibre for the nation."
Colette Turner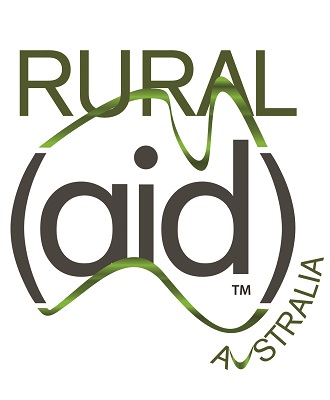 Colette Turner takes care of Rural Aid's many farmers in the Darling Downs region. From her base in
Toowoomba, Colette visits farms around Roma, St George and Goondiwindi.
Colette helps her farmers recognise behaviour patterns that can be detrimental.
"There's the mentality in the country that you just have to 'get on it with it'. But sometimes,
'getting on with it' just won't work," Collette says.
"If people bottle their emotions down, it becomes like a volcano that's going to erupt."
Colette believes everyone deserves access to quality health care, no matter their location.
"People in regional and rural communities deserve the same opportunities to access support, knowledge
and information regarding their mental wellbeing as people living in major cities and highly
populated areas."
Mental Health and Wellbeing Team Management
Lauren Stracey

Manager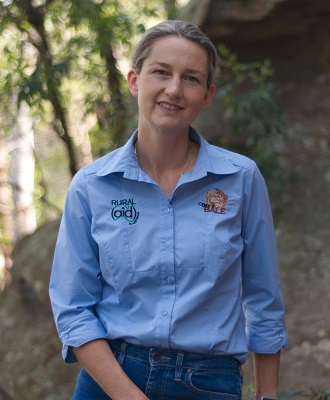 Lauren Stracey is an experienced and passionate psychologist who expertly manages Rural Aid's team of
counsellors from her Sydney base. Lauren spent her formative years riding horses as a stable-hand.
The hours spent on horseback sparked a deep connection; Lauren now feels happiest in the bush.
Lauren believes everyone has the right to be listened to and supported, no matter who they are, or
where they are coming from. Lauren says the health gap between city and country folk is unacceptable
and is committed to her role in bridging the divide.
"The challenges that some rural communities have faced are heartbreaking. It is such a privilege to
support rural folks' natural grit, improve mental wellbeing, and to try to change some of the
culture around seeking help when you're doing it tough," Lauren says.
Lauren can often be spotted sitting round the fire with a farmer or having a cuppa on their couch.