Annual Report 2021 / 2022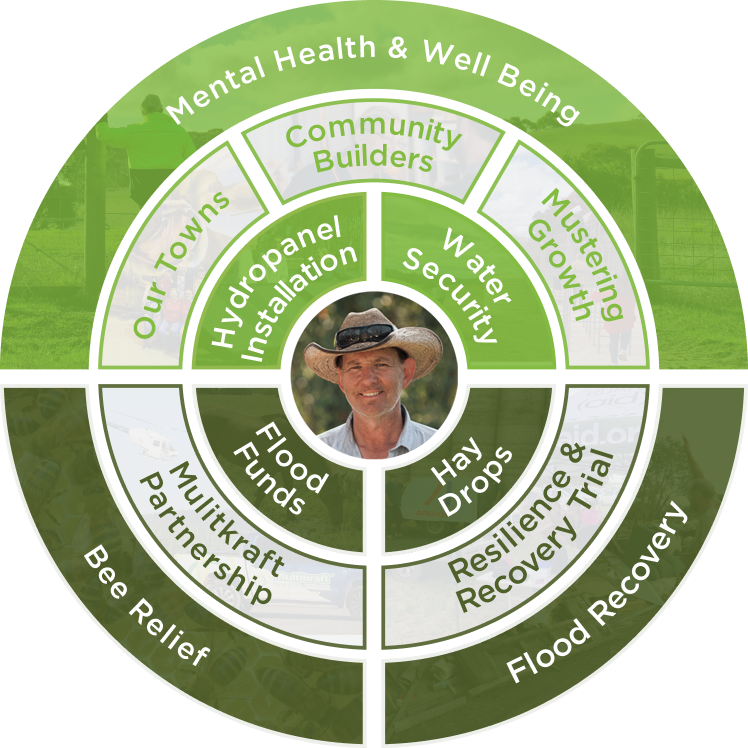 Chairman's Report
CEO's Report
Preparation

Mental Health & Well Being

Our Towns

Community Builders

Mustering Growth

Hydropanel Installation

Water Security

Recovery

Bee Relief

Flood Recovery

Resilience Recovery

Multikraft Partnership

Hay Drops

Flood Funds

Farmer Support
Mental Health &
Well Being
Kaye Wicker story:
Our Mental Health and Wellbeing team is made up of 15 experienced counsellors who are based in rural towns across the country and offer free, confidential support to farmers and their families. The counsellors are trained to help their communities with a range of services in early intervention and health promotion.
"Rural people don't really access counselling to prepare for natural disasters, it's more about us being around and visible in those preparatory stages, so that people understand that there is support if they need it," Rural Aid's Mental Health and Wellbeing Manager Lauren Stracey said.
"In the preparedness stage, we're focused on working with people who might be experiencing mental health issues which would then be exacerbated if a disaster happened.
"The Rural Aid team has been doing radio interviews that share mental health promotion, writing our newsletter Rural Roundup which is all about capacity building, attending field days, being involved in communities and local community groups – and that's all about providing visibility to the team and letting people know we're here for them."
Our Towns
Through our community renewal programme Our Towns, we support ten rural towns each year impacted by drought. The $100,000 five-year project helps communities to strategically plan for and deliver on the vibrant and sustainable future they envision for their towns.
Community members work with Bank of I.D.E.A.S. director and founder Peter Kenyon and Rural Aid to develop long-term renewal strategies.
Community members are required to invest themselves, ideas, assets and resources during the process. Over five years Rural Aid provides the capital and people via a dedicated group of volunteers to see the vision realised.
Here is an update on some of the progress made over the past year.
Town: Lockington, Victoria
Lockington is a small town with a big heart. Sixteen years ago, when the only fuel station closed, the town got together and purchased the building. Run by volunteers they still sell fuel but now the vital centre also houses the community bank, neighbourhood house, men's shed, laundry, op shop, and next door is the community garden.
The town received a boost from May 15-21 when 43 Rural Aid volunteers painted the tennis club inside and out, concreted under seats and around the rinks at the bowls club, painted inside the senior citizens room, fenced and cleared the track at the rail trail, repaired fencing at Pannoo-Bamawm cemetery, refurbished the toilet block at the campdraft and pony club grounds, replaced boards at the boardwalk and re-organised and catalogued exhibits at the heritage centre.
Lockington local and Our Town coordinator Wendy Sims said the town was buzzing.
"It's wonderful for the Lockington community to see this project arrive," she said, "It's so satisfying to know that other people have belief in us and see us as important."
Town: Orroroo, South Australia
Orroroo has "never looked better" following Rural Aid's transformation in May 2022.
A convoy of Rural Aid's most dedicated volunteers headed to South Australia's Orroroo, for the Our Town's makeover week.
Orroroo's Country Fire Shed, Catholic church, swimming pool and Solly's Hut were all spruced up by the Rural Aid team. The 30-strong volunteer crew also built a new garden bed at the town's buggy display and concreted a new ramp at the golf club.
"Orroroo has never looked better! We're really moving forward. It's such a bonus for us," Orroroo local leader Lyn Hounsell said.
"It was fantastic, the volunteers were a joy to talk to. I went around and tried to meet all the different groups, and they were just lovely. I find it hard to believe that they [Rural Aid] can get 30 volunteers to come to a small country town in the middle of South Australia. It's huge."
Town: Coolah, New South Wales
After being postponed twice due to the pandemic, Coolah finally received its long-awaited Our Towns turn in September 2022.
More than 50 Rural Aid volunteers marched into town on September 4 on a week-long mission to help the community get back on its feet, after being struck down by drought, fires, and recent flooding.
The Rural Aid volunteer team worked on a number of improvement projects while in town, including the Coolah tennis club, recreational showgrounds, swimming club, and reconstructing flood-ravaged fencelines.
Coolah local leader Sally Edwards thanked the Rural Aid team and said the visit will provide a much-needed boost to the town's economy.
"If the town's a bit more attractive when tourists drive in then maybe they'll stay and explore and find out what we love so much about our town."
The Our Towns week kicked off with a free town concert, put on by the Australian Army. Coolah's Our Towns week was made possible by property investment and development company Holdmark.
Community Builders
The key to economic sustainability, resilience and longevity in rural communities is tied directly to investment in community leadership and the Community Builders program provides the necessary information, skills, tools, motivation, confidence and passion to positively manage community change. It is a grassroots leadership initiative invested in supporting local community builders to better understand and build their local and regional community and economy.
Rural Aid has launched the newest iteration of the Community Builders program in West Australia's South Central Wheatbelt.
Over the past few months, local leaders from a dozen small towns meet up to swap ideas, problem solve and formulate plans to boost their region.
Bank of I.D.E.A.S. founder Peter Kenyon and generous corporate support from the CBH Group made the first meeting possible in the town of Wagin which brought together community leaders from Dumbleyung, Narrogin, Kulin, Wickepin, Corrigin, Pingelly, Wandering, West Arthur and Cuballing.
Mustering Growth
For the past year Rural Aid has been piloting a mental health resilience program for children called Mustering Growth.
A review of evidence-based wellbeing programs in 2020 revealed that there were no wellbeing programs specifically designed and delivered to students attending regional and rural schools in Australia.
Rural Aid rose to the challenge and commissioned researchers from Monash University to design and evaluate such a program to improve resilience and coping skills of children in regional and rural Australia.
The Mustering Growth program is targeted at primary school children in years five and six, with studies revealing this age bracket is a transition point in terms of mental health risk.
The objective is to engage children at a young age to introduce the concept of maintaining mental wellness, provide tools and pathways for assistance, and foster resilience strategies to be able to buffer the impact of natural disasters - flood, drought, fire - when they inevitably happen.
Mustering Growth is in the pilot stages in 11 schools across Western Australia, South Australia, Victoria, New South Wales and Queensland, delivered by our trained counsellors in the schools within their territories.
Rural Aid's Mental Health and Wellbeing Manager Lauren Stracey said Mustering Growth has been well-received by schools, students and their families.
"The feedback has been really, really positive and it's certainly going to be a big focus for Rural Aid in 2023," Lauren says.
"Rural Aid will be publishing a report in early-2023 with the preliminary findings from Mustering Growth, and aims to expand the initial research beyond the pilot phase. Mustering Growth is a crucial step in our determination to deliver meaningful outcomes for rural communities across the country."
Hydropanel Installation
June 2022 saw an end to six years of dry taps and plastic bottles at Valkyrie State School in central Queensland.
Rural Aid facilitated the installation of a SOURCE Hydropanel system at the small school. The hydropanels utilise advanced materials and renewable energy to create high-quality drinking water using only air and sunlight.
Valkyrie P&C president Kristen Michelmore said the hydropanels have brought peace of mind to students, parents and teachers. Prior to their installation students had taken it upon themselves to monitor how much water they drank during the day.
"School needs to be a safe place where kids can learn and not have to worry about turning on a tap," Ms Michelmore said.
"Regional school children should be treated the same as those in the cities and provided the same basic services. Through my work with the Isolated Children's Parents' Association it is clear this is not just a problem for Valkyrie – many other schools across regional and remote Australia have issues with drinking water quality and access, so it would be great to see more projects like this supported by the Government and Education Department."
Rural Aid delivered more than 10 million litres of drinking water to farming families during the drought. The Valkyrie Hydropanel installation was Rural Aid's third water-delivery project at a Queensland school.
Water Security
A Northern Tablelands NSW cattle farmer was the 100th primary producer in Australia to welcome a free water tank and truck load of water in June 2022.
Bronwyn Sargeant received the tank and water as part of a Rural Aid and Finish initiative, #FinishWaterWaste.
The scheme aims to provide the infrastructure to help safeguard farming families and rural communities into the future, and was delivered to farmers in low rainfall areas to improve their water security.
Since 2019, Finish has donated more than 14 million litres of water to drought-affected Australians through the initiative. Rural Aid distributed 100, 22,500 litre water tanks to drought-affected farmers over the past six months.
Water deliveries are one of Rural Aid's most requested assistance measures.
"Support for farmers who've been through so much."
During the drought, Bronwyn and her family often ran out of water. She described the past few years as "horrendous" and said the addition of the new tank on the family property is life-changing.
"A huge thank you to Rural Aid and Finish for providing the tank. It's a wonderful initiative and is such a support for farmers who've been through so much," Bronwyn says.
Rural Aid's counsellor and community representative on the Northern Tablelands, Heidi Gray, said the impacts of the drought are still being felt in the community.
"Recovering from a drought takes years. Memories of empty tanks are still very raw in farmers' minds," Ms Gray says.
"Having a new tank that's full of water makes a huge difference to a farmer's mindset. Being able to capture more rainfall when the next drought does arrive is an invaluable gift.
"It's just one less thing for them to worry about. It might give them an extra 10 minutes of sleep at night, which could make all the difference for them the next day."
Bee Relief
Australia's littlest livestock under siege
In July 2022 Australia's precious European honey bees were under siege from the hive-destroying Varroa mite. The parasite was first detected in hives at the Port of Newcastle but quickly spread across New South Wales.
In some ways, professional beekeepers are Australia's forgotten farmers, yet they're the cornerstone of Australia's agricultural business.
Rural Aid launched a fundraising campaign, Buy a Bee, in support of our impacted beekeepers. We thank every Australian who dug deep to support our beekeepers in their moment of need. Rural Aid offered beekeepers and their families free counselling through its nation-wide team of qualified counsellors, and financial assistance in the form of $500 pre-paid Visa cards.
The Buy a Bee initiative stemmed from Hive Aid, created during the Black Summer bushfires. Hive Aid has provided financial assistance to beekeepers impacted by the 2021 and 2022 floods across the eastern seaboard.
Flood Recovery
The recovery journey from a devastating event can feel like a long and solitary path, but sharing it with others eases the burden.
When natural disasters struck in 2022, the Rural Aid Mental Health and Wellbeing team was there on the ground for flood-affected farmers and their families, providing the face of support, mental health first aid, and linking farmers and their families with appropriate services, internally and externally. And while the water eventually subsided, our team didn't go anywhere.
In March 2022 Rural Aid counsellors, The Clovass McKees Hill Hall's committee and the Tomki Rural Fire Brigade hosted a flood recovery and information night for Northern Rivers farmers.
Several service providers attended the event and Rural Aid relished the opportunity to catch farmers up on assistance available to them, whether that be financial, fodder, volunteer or counselling. We cranked up the music, fired up the barbecue, and put on a free meal so locals could share a meal and a yarn with their friends and neighbours.
"Rural Aid has done many community events in response to disasters this year and while there's been service provision there, we've really focused on having non-clinical responses to what has happened," Lauren says.
"What we know is that communities that have a higher degree of community cohesion and connectedness recover faster and better."
Resilience and Recovery Trial
Rural Aid is proud to have partnered with Phoenix Australia in 2022, the country's national centre of excellence in posttraumatic mental health.
The Rural Aid Mental Health and Wellbeing team has been involved in the clinical trials of the Skills for Life Adjustment and Resilience Program (SOLAR). The findings gained through SOLAR will be used to help people who have experienced disaster or other traumatic events manage their emotional distress, adjust to life following trauma and prevent them from worsening down the track.
Rural Aid's Mental Health and Wellbeing Manager Lauren Stracey said the results of the five-session skills-based program will be utilised by the Rural Aid counselling team and will play an important role in addressing early emotional problems in farmers following a natural disaster, before they deteriorate into serious mental health issues.
"When we talk about recovery, we look at it in terms of intervention and treatment; and SOLAR falls into the first category," Lauren says.
"We're looking to use it as a model of intervention moving forward once the clinical trial has finished for people needing long-term support following a natural disaster. It's really at that six month point following a disaster, after the initial phase of fight and flight, that people move to the next phase where they're actually seeking support, and that's what we're seeing now."
Multikraft Partnership
Turning rotting flood waste into fertiliser for our farmers
Rural Aid is committed to standing with our farmers for decades to come; they're at the core of everything we do, and always will be.
To maintain Rural Aid's long-term resilience, we've implemented a number of strategies to diversify its income streams, including a recent strategic investment into the Multikraft business.
In April we helped Northern Rivers farmers turn rotting flood waste into a healthy by-product for soil improvement, through a partnership with Multikraft Probiotic Solutions.
Multikraft's MicroBalance product was sprayed by helicopter onto 33 farms in northern New South Wales.
The probiotic solution is a multi-strain microbial product that benefits soil health by quickly decomposing flood debris and organic matter into useful mulch.
The product and its aerial application were distributed to Rural Aid farmers free of charge. More than 4500 acres were sprayed across the Northern Rivers.
The project was a practical and timely solution for flood-affected farmers, many who we witnessed cry tears of joy, buoyed at the prospect of seeing their farms recover from the floods more quickly.
Rural Aid was proud to offer this product to our Northern Rivers farmers, alongside our existing assistance measures like financial support and free counselling.
The spraying initiative was a fitting way to mark the start of an important new Rural Aid and Multikraft partnership. We will continue to investigate opportunities to grow in strength through a combination of investment income, individual donations and also creative corporate partnerships.
Long term relationships are an opportunity that we look forward to exploring with any businesses that share the vision Rural Aid has for supporting farming families and communities across Australia.
'Welcome shot in the arm'
Wardell Macadamia grower Robbie Commens described the flooding events of early-2022 as 'incredibly overwhelming'.
"We have had the biggest flood the region has ever seen. We had about a metre and a half of water over all of our trees," Mr Commens said.
As the water began to dissipate, Mr Commens was left with tree leaves smothered in fine, silky mud that prevented them from photosynthesising, resulting in them dropping off.
But the Rural Aid and Multikraft initiative gave the grower a 'shot in the arm'.
"It's a really weird feeling as a proud farmer having someone ring you and say they want to help, but in hindsight it was invaluable. It's helped us all stand an inch taller and take a bigger step forward."
"Just having someone tap you on the shoulder and say 'hey, we're here and we hear you're struggling and we want to help was a huge shot in the arm."
Mr Commens said the product will boost the orchid, describing it as 'hugely valuable' to his operation.
Hay Drops
Rural Aid is proud to stand with farmers as they navigate their recovery. In September more than 120 bales of hay - totalling 30 tonnes - were distributed to Northern Rivers farmers in a boost to their flood recovery efforts.
'A godsend'
Lismore region farmer Jason Rhodes said this year is the wettest he's ever seen on his property.
"We just had another weekend of rain, so it's miserable," Mr Rhodes said. "It's so waterlogged that water has just got nowhere to go."
The Brahman cattle breeder described Rural Aid's assistance as a 'godsend'.
"We've never had to feed our cattle hay before this, so that's saying something," Mr Rhodes said.
'Sheep don't do very well on onions'
While Rural Aid continued to help farmers in Northern New South Wales and Southern Queensland with flood recovery, drought-affected farmers in South Australia were also provided with hay drops in June.
Some 300 tonnes of hay were delivered in six separate drops throughout South Australia.
Klaus Gierke is a sheep and mixed crop farmer at Nildottie, near the Murray River east of Adelaide. Mr Gierke, who had been feeding his neighbour's onion seconds to his stock because he has no grass or feed, said the delivery came just in time.
"Sheep don't do very well on onions, it just keeps them going, and they had run out," he said, "It's probably the second-worst drought that I've seen in the 30 years or so I've been farming here."
The grazier said people might be surprised to know areas like his could be so dry when so much rain had fallen elsewhere.
"It would be nice if we could even out the rain," he added. "This hay will help me prolong the feed... it's been pretty handy."
'Rural Aid is proud to be able to take some worry away from our farmers'
In Western Australia's Great Southern region, Rural Aid delivered 74 bales of hay to bushfire-affected farmers.
Thousands of hectares were damaged in long-burning blazes that first started sweeping the region in February 2022. That April, 45 tonnes of hay was delivered to Denmark, to be shared between five farmers. It was the first Rural Aid hay drop into West Australia since 2019.
Rural Aid counsellor and community representative in the Wagin area, Roger Hitchcock, said the bushfires continued to smoulder for up to two months.
"The bushfires were horrendous, and saw countless sheds, paddocks and livestock destroyed," Mr Hitchcock said.
"The road to recovery is long and hard. Many of these farmers have been hand feeding their cows and calves, as any green grass has been eaten down quickly. It's going to be a pretty long winter. Rural Aid is proud to be able to take some worry away from our farmers, even if it's just covering their week's stockfeed."
Counsellors joined the hay drops, making themselves available to farmers struggling with the challenging dry conditions in South Australia and the devastating floods on the east coast.
Flood Funds
Australians rallied to better the lives of flood-affected farmers, through an outstanding donation effort. Rural Aid received more than $1 million in flood funding from generous donors and corporate supporters.
In the first 24 hours alone, almost $20,000 was raised by Rural Aid's supporters. This included a $25,000 donation from energy infrastructure business APA Group. The outpouring of donations was one of the strongest shows of support in our charity's recent history. From this, more than 500 payments were made to Rural Aid farmers in Queensland and New South Wales.
In July, Rural Aid provided a new round of financial assistance for farming families in the Hawkesbury and Nepean region, with flood-affected primary producers able to apply for a $400 pre-paid Visa card. Rural Aid also provided farmers with free counselling, fodder and water drops, and access to our volunteer platform, Farm Army.
'I don't have bobcats, I don't have machinery'
Mooball fruit grower Peter Brils said financial assistance was the most effective way for him to start his flood recovery process. The Tweed Shire farmer lost a significant portion of his fruit and trees in the floods.
"The rain impacts our harvest really intensely. We lost a lot of crops, there is devastation," Mr Brils said.
He is now working to change the destructive way water flows across his property.
"I'm happy with financial help so I can get things done. I don't have bobcats, I don't have machinery. In my case, I need machinery [to recover] and that costs money."
Rural Aid will continue to support flood-affected farmers, like Peter Brills, as they take on long-term recovery projects.
Chairman's Report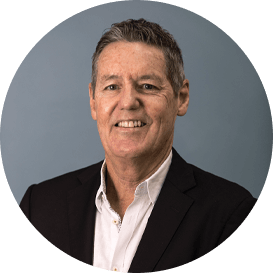 Our dedicated Rural Aid team works tirelessly on the commitment we have to enhance the charity's reputation as Australia's most trusted rural charity.
That is not a title we have assumed, rather it is an honour bestowed on Rural Aid by our loyal donors. We covet our donors large and small as much as the farming families we support on a daily basis.
Extensive market research with Rural Aid supporters (August 2021) revealed that the trust in Rural Aid remains very strong and is a primary motivation for the ongoing generosity of our donors. In quarterly brand tracking research, Rural Aid is the number one ranked rural charity, according to respondents, who list "I trust this charity the most" as the number one reason that donors support charities.
As an organisation that relies almost exclusively on donations to enable its support of farming families and communities, the endorsement the organisation receives is a huge vote of confidence in our team, the assistance Rural Aid provides, and the way in which it operates. Donors expect their generosity to find its way to the people it is intended for in a timely and efficient manner.
Rural Aid's vision is to "provide economic and empathetic assistance to rural communities impacted by natural disasters by partnering with key stakeholders to deliver meaningful outcomes". The charity was established in 2015 to generate one of the most successful fundraising initiatives ever run to support rural Australia - Buy a Bale. It continues to be innovative in its approach to fundraising and appreciates the importance of needs-based solutions to best assist rural families before, during and after any disasters.
Since the foundation of Rural Aid, the charity has been called on to support communities through drought, floods, fires, mice plagues - not only during the time of crisis, but also through the long period that recovery can take.
The organisation continues to find new and important ways to provide support and Rural Aid's response to the catastrophic floods on the NSW Northern Rivers earlier this year is an example of finding solutions to problems that sometimes don't feature in the immediate media coverage of the crisis. In this instance, Rural Aid collaborated with Multikraft to apply 40,000 litres of probiotic solution to 3,500 hectares of waterlogged macadamia orchards, and croplands growing sugarcane, soybeans, rice, maize and pastures. This was an innovative first for Rural Aid and gave crops a recovery kick start using a microbe-based, organically accredited Multikraft product to do so.
It came on top of the more "traditional" support associated with Rural Aid - counselling and emotional wellbeing, financial assistance, fodder and drinking water along with the numerous local gatherings our team either organised or attended.
The leadership team, supported by the Board, is committed to ensuring families are provided with assistance through all stages of the disaster cycle - response, recovery, preparation and prevention. We recognise that what primary producers require from Rural Aid will depend on the circumstances confronting them at the time. The regular engagement by Rural Aid with its 16,500 registered farmers helps ensure their needs are understood and are addressed.
Rural Aid is firmly of the opinion that immediate disasters aside - the three biggest issues confronting the agricultural sector are:
Mental health and wellbeing;
Sustainability; and
Succession planning.
Discussions are ongoing with State and Federal leaders about how these challenges can be addressed and the important role Rural Aid has to play.
The rate of suicide in rural communities remains unacceptably high and is at twice the rate of urban areas. Building mental wellbeing services for rural and regional communities requires a different approach - including boots on the ground through an organisation such as Rural Aid.
The 2021 State of the Environment report graphically highlights the need for immediate practice change on Australian farms to halt the loss of soil carbon. In five years, only the US and China have lost more organic soil carbon. Sustainability through regenerative agriculture goes hand in hand with productivity, profitability and longevity. Rural Aid is committed to helping primary producers on this journey towards sustainability. Our soils, farming operations, and farmers will be better for it.
To ensure the continued strength of the agriculture sector and ongoing food security, it is imperative that there are robust transition plans in place for families who are planning for their next generation to take over management at the appropriate time. If it is done well, the unprecedented generational transfer of wealth from Australia's asset rich ageing farmers to their sons and daughters will see agriculture power ahead. In instances where it is not achieved, there is the risk of very unfavourable outcomes for individual families - financially and emotionally. The agricultural sector and Australia's food security needs to be supported by keeping rural family businesses intact through well mapped out succession plans. It is never too early to start this process, however often it is not given the focus it needs to ensure the best outcomes for all.
The Board of Rural Aid is supporting the management team to successfully tackle the challenge of supporting these three complex challenges, we will truly create Stronger Futures for the nation's farming families and the broader $70 billion agricultural sector. The Board is also committed to building resilience within the organisation by maintaining a high level of engagement with our donor base, looking for opportunities to partner with companies that can provide economic benefits to the charity and by continuing to engage with Federal and State agencies to ensure that Rural Aid is an active participant in any programs put in place to support primary producers and rural communities.
Our dedicated staff and management team are delivering great outcomes for rural communities across a broad geographic base and the Board greatly appreciates the effort they make and the donations we receive to support their efforts.
- Alex Hutton | Chairman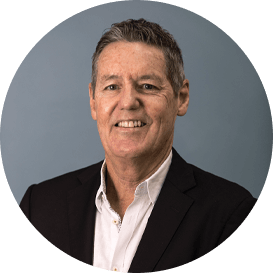 CEO Report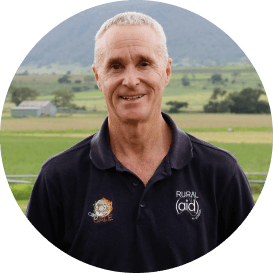 Drought was the catalyst that saw Rural Aid rise to prominence from humble beginnings in a suburban Brisbane garage to being recognised as Australia's most trusted rural charity today.
The systems and processes that enabled Rural Aid to deliver almost $100 million in assistance during the big dry have served us well in 2021-22 when the need to get support rapidly and efficiently to farming families was again required albeit against a very different backdrop – this time, multiple catastrophic flood events across Southern Queensland, Victoria and large parts of NSW, including the Northern Rivers, Hawkesbury, Hunter Valley and far north west.
Rural Aid's response to these disaster events was swift and targeted. When the rain started so did Rural Aid – sharing warning information from the Bureau of Meteorology with our registered farmers and reinforcing to families via a personal call that our support would be forthcoming should they need it once the water receded.
When it was safe to do so, Rural Aid's accredited counsellors were on farms providing emotional and mental wellbeing support and in the subsequent weeks travelled thousands of kilometres criss-crossing communities to ensure help was always close at hand – be it in person, at a saleyards meeting, community get togethers or a chat over the phone.
Today our counsellors continue to play a vital role throughout these regions, and more tangible support, representing more than $1 million since January continues to flow from Rural Aid to recovering families as financial assistance, fodder for livestock, drinking water and water infrastructure.
This same commitment to being ready and responsive is a Rural Aid hallmark and reflects how all situations were managed during the year. Many families outside of those impacted by floods, also reached out for a helping hand and were warmly embraced.
The great irony in 2022 is the agricultural sector is managing a season with too much rain whereas so much of the recent past has been about drought and the hardships it wrought. La Nina has been both a blessing and a curse.
With the rain has come dramatic transformation - the country in so many regions has never looked better, however, the impacts of too much moisture are not unlike those of drought – livestock health and productivity are negatively impacted and crop production and quality downgraded.
This is the scenario confronting so many farming families right now. It is our great hope, the season will be kind and the recovery that is underway continues and gathers further pace in the months ahead.
From our farmers…
"Well we are flooded again but I knew I could call you for support. It's great to know Rural Aid is there for us and the support you provide. It gives us peace of mind knowing what Rural Aid provides.
Rural Aid kept me going in the drought……Now we have had floods and beautiful rain for nearly two years with almost too much feed for the few stock left on the place. Rural Aid did indeed live up to its name and help when help was needed."
– Farmer, Hawkesbury NSW
Building awareness
A priority this past year has been to boost the awareness our political leaders have of Rural Aid and its work in support of farming families and the communities they call home.
It is vitally important that decision-makers at a state and federal level have a solid understanding of Rural Aid and the role it plays across all sectors of the disaster lifecycle – response, recover, prevention and preparedness.
Our reputation for being able to respond rapidly to disaster events – be it drought, bushfire, floods or cyclone is well-known, as is the ongoing support that Rural Aid provides well after the headlines have faded.
This reputation was forged during five devasting years of drought through until mid-2020, the assistance Rural Aid provided post the black summer bushfires, this year's catastrophic floods, and numerous equally impactful localised disaster events across the country.
What is not as well understood beyond the fodder and drinking water that Rural Aid delivers and the financial assistance, is that Rural Aid is a vital provider of emotional and mental wellbeing support through its professionally accredited team of counsellors.
It comes as a surprise to many to learn that the largest team within Rural Aid is the mental wellbeing team and that our counsellors are on the ground in communities across five states – Western Australia, South Australia, Queensland, NSW and Victoria.
The importance of their work cannot be overstated, nor the scale or depth of the mental health challenge confronting our nation. Demand for the support Rural Aid provides only increases post these disaster events such has been the situation again in 2022.
Rural Aid is trusted and respected - our robust governance, demonstrated ability to rapidly deploy teams to communities in need and get assistance to those that require a helping hand has been proven repeatedly.
We will continue to reinforce this message to all levels of government in the year ahead with a view to becoming a partner to the states and federally – not just during times of disaster but ongoing, especially when it comes to delivering better mental health and wellbeing outcomes for farmers and their families.
Rural Aid's counsellors are unique in that where they can, they meet with farmers face-to-face on-farm – often seated at the kitchen table with cuppa in hand, in addition to conducting sessions over the phone. They are visible and accessible through the dozens of industry and community events they attend.
We believe this model very much meets the needs of farmers, is making a life changing difference and its impact - with additional resourcing, could be dramatically magnified to the benefit of individuals, rural communities and the nation.
The Rural Aid board last year approved the expansion of this team and the appointment of 10 new counsellors.
The thousands of conversations our counsellors have had during 2021-22, often but not always against the backdrop of disaster, have reinforced the importance of this decision.
In 2022-23 we aspire to further highlight this vital work to our political leaders and win their support to enable further expansion of Rural Aid's mental health team.
Financial diversification
Rural Aid is forever grateful for the generosity of its vast community of supporters that give so willingly when our mates in the bush need a helping hand. This year's flood catastrophe was another demonstration of that willingness to dig deep.
Back in March when Rural Aid issued the call through its flood appeal, Australian's had donated more than $1 million within a matter of weeks. These funds were rapidly dispersed to farming families from the Burnett region in Queensland's south across the border into NSW to the hard hit Northern Rivers along with the Hawkesbury and Hunter.
We recognise that every day Australians have and continue to experience their own challenges, including the lingering impacts of COVID-19 lockdowns and cost of living pressures yet find it in their hearts to support our farmers through thick and thin.
To maintain Rural Aid's long-term resilience, the organisation has implemented a number of strategies to diversify its income streams. This includes a recent strategic investment into the Multikraft business and compliments Rural Aid's other income diversification strategies.
We will continue to investigate opportunities to grow in strength through a combination of investment income, individual donations and also creative corporate partnerships.
Long term relationships are an opportunity that we look forward to exploring with any businesses that share the vision Rural Aid has for supporting farming families and communities across Australia.
- John Warlters | Chief Executive Officer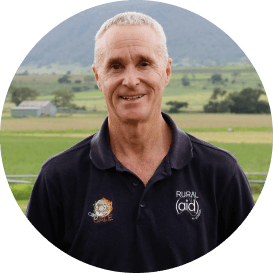 During the last financial year, we provided to farmers and rural communities: